Nature at the foot of the duvet for a wellness break in Burgundy
Chic, Nature, Design & Romantic Concept
Minimum stay 3 nights in July/August school holidays and bank holidays... Breakfast extra.
WITHOUT OPPOSITE, YOU WILL HAVE THE PRIVILEGE TO BE ALONE AND WILL BENEFIT IN ALL QUIETUDE OF THIS ENCHANTING PLACE.
A wellness break at Domaine Pont-Roche, in the Ignon valley
The estate and its luxury accommodation le Cube are located in the valley of the Ignon, a
Burgundy's less-touristy valley, easily accessible but off the beaten track, 35 minutes from Dijon and 1 hour from Beaune.
Take advantage of this ideal location, not far from the city and in a green setting, to combine outings in town, discovering the villages, country walks in the surrounding area, sunbathing on the estate, Nordic bathing on the Cube terrace and sspa and massage session in your unusual accommodation.
Book a stay at Domaine Pont-Roche to recharge your batteries and take a romantic break in our natural surroundings. unusual accommodation with private spa in the heart of Burgundy.
Top-of-the-range unusual accommodation in the heart of Burgundy
Frédéric Dansert offers you the chance to stay in a contemporary, Cube-shaped, timber-framed, eco-friendly, BBC house on stilts, which has been designed to blend in perfectly with its surroundings.
perfectly with the environment of the estate and the valley.
At Domaine Pont-Roche & Spa, you can recharge your batteries by taking advantage of the natural surroundings.
surrounds the accommodation. The River Ignon flows past the foot of Le Cube's terrace and you can
You'll be lulled to sleep by the lapping water on warm summer evenings. Visit
lights strategically illuminate the terrace to create a play of light in the evening and in the afternoon.
magnify the environment of the Cube suite.
Our unusual accommodation has been equipped and decorated with care. Private spa, bathroom furniture
Designers, top-of-the-range appliances, works of art, premium bed linen... everything has been thought of to offer you a magical moment of true relaxation.
In fact, Le Cube has had a 4-star Meublé de Tourisme rating for the past 10 years. Our top-of-the-range atypical accommodation also has 4 ears of corn at
Gites de France.
Before booking, contact the owner to organise your stay
in Burgundy and check availability together.
Bed 160×200 - Percale sheets
Fully equipped kitchen (fridge, hob, sink, hood)
50m² capacity 2 persons maximum
DTT television + RJ45 socket
Hammock, deckchairs, and family Fatboy
Nordic bath unlimited access
Sauna and or DUO massages at extra cost.
Arrival from 6pm, departure 10am max
Our prices vary according to the number of nights.
Our prices vary according to the number of nights.
Minimum booking for a stay in the Cube
Including free access to the private Nordic bath, heated over a wood fire.
Price for a reservation for 2 people
Minimum booking for a stay in the Cube during school holidays, bank holidays or public holidays
Including free access to the private Nordic bath, heated over a wood fire.
Price for a reservation for 2 people
Including free access to a private Nordic bath heated over a wood fire
Price for a reservation for 2 people
Prices are for two people.
A deposit will be required on arrival.
To find out all the prices for your future unusual accommodation with private spa, and to check availability, contact us by clicking on the "Contact" button below.
Options available with our local partners
Catering: delivery of ready-made meals on site
Clotilde Landais, restaurateur at the Comptoir Gourmand in Salives, will be giving you
excellent hot dishes during your stay.
Remember to inform your host and contact the restaurant as soon as you book your stay in the Cube's unusual accommodation.
Restaurant, bakery and pastry shop close to the estate
Well-being : CALIFORNIAN MASSAGES
Our practitioner Philippe will be happy to come and massage you during your stay.
Book your session with our wellness partner as soon as you book your
housing.
Practitioners Béa and Socha will also be delighted to give you a Duo massage for
your intimate stay in the Cube.
Wine tourism: tastings and cellar tours on the Burgundy Grands Crus route
Would you like to discover Burgundy's oenological riches? Contact Bruno Sotty before you arrive in the Cube and together we'll work out a wine route, a choice of wines to taste and select one or more cellars to visit. Bruno will be delighted to guide you for half a day or a full day along the famous Burgundy Grands Crus route and accompany you to discover the region's cellars and winemakers.
Local products: discover products from the farm
Enrich your an atypical, top-of-the-range stay in the Cube discovering local produce from the surrounding Burgundy farms in the Ignon and Tille valleys.
A haven of peace in the heart of Burgundy
Designed by architects Ar-tek, the Cube is an unusual, atypical, top-of-the-range and unique accommodation concept. This accommodation, which combines chic and well-being, is set on the banks of a small, authentic, first-category river, the Ignon, and blends harmoniously with the landscape of this beautiful Burgundy valley. Enjoy a truly enchanting setting and recharge your batteries by the water in complete tranquillity, even in the evening.
as the riverbanks are not affected by mosquitoes. The unusual accommodation includes a private spa and Nordic bath, so you can take a real break during your stay. Le Cube is a balance of nature, design and refinement, rated 4 stars by Côte d'Or Tourisme.
Spa with private Nordic bath and sauna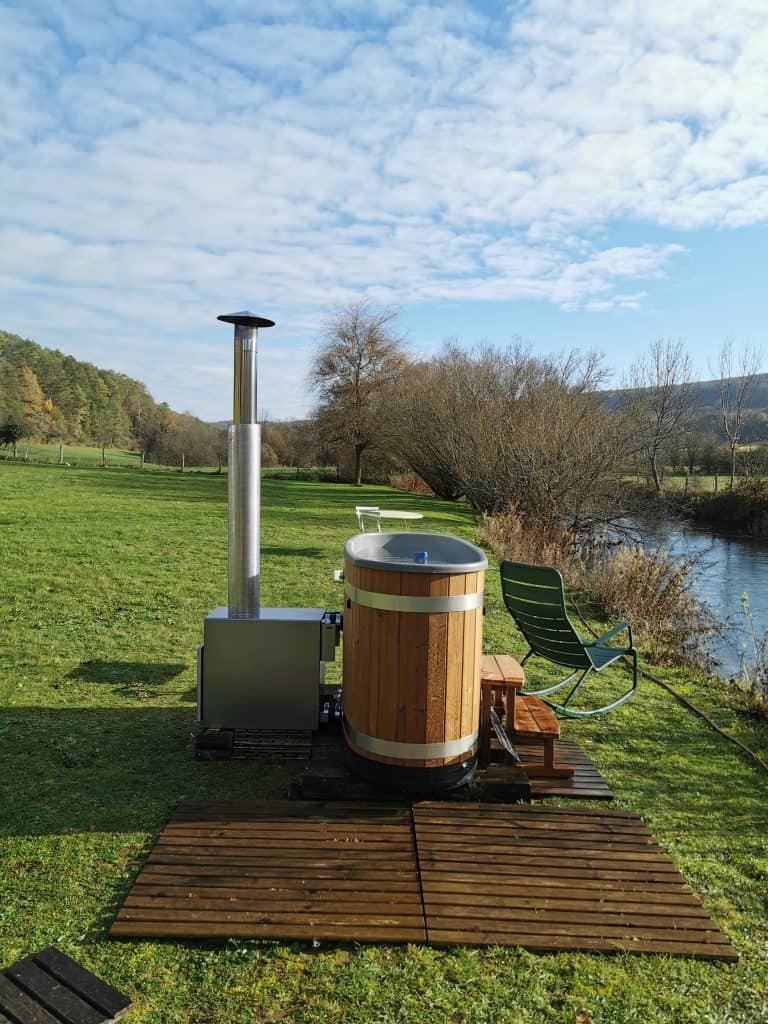 Our private Nordic bath heated over a wood fire is filled with spring water to each
new arrival at the Cube unusual accommodation. The water is completely renewed between each rental period for total comfort and optimum hygiene. A stock of wood is at your disposal so that you can enjoy several sessions during your stay, as you wish, and create your very own "woodland". unforgettable memories for 2 in your private spa. The Nordic bath will be heated for your arrival, so you can relax as soon as you enter the Cube.
If you book a stay in the Cube, you can also take advantage of the panoramic sauna which
offers breathtaking views over the river and the estate's vegetation. It's the ideal place for a cocooning moment with your partner, to recharge your batteries and admire the surrounding nature. A magical interlude.
Alternate hot sessions in the sauna with cold sessions in the designer bath.
The St. Floris Schoonderbeek spa is located right next to the panoramic bubble. Enjoy the benefits of hot and cold on your body and an exceptional view of the river!
Frédéric Dansert, your host, has paid particular attention to the interior design of Le Cube. Many of the furnishings are by designers, and the equipment is top-of-the-range. So you can enjoy a stay in an unusual accommodation, with a private spa, that combines luxury, design and comfort, all in a magical environment.
In this unusual accommodation in Burgundy, you will find works signed by the painter Julie Jalerwhich are available for purchase.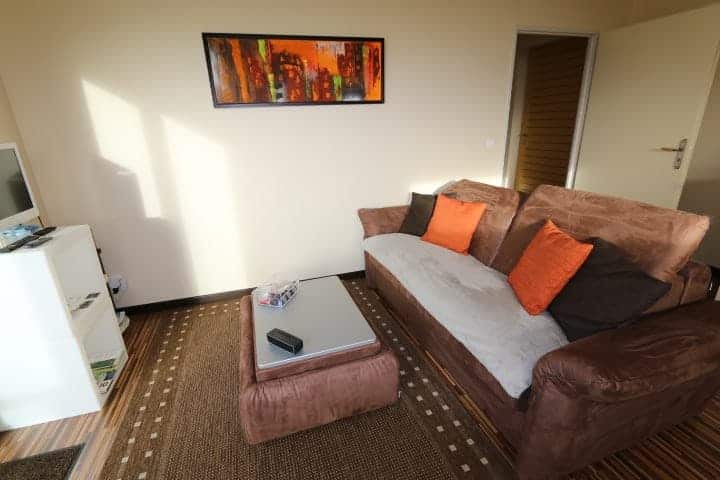 What you thought of the Cube
An idyllic, restful, magical place... A host who knows how to make himself available while remaining discreet. Small attentions that make all the difference. You must go there without hesitation.
A huge thank you to my host. A stay of happiness, rest and peace. An exceptional welcome by a passionate person... We emptied our heads and are only waiting for one thing '.... To come back as soon as possible Less than 40 minutes from Dijon, a perfect change of scenery... True happiness Thanks again for everything
Great family stay.... the perfect place to relax and enjoy the scenery, the area, one of the most beautiful in my opinion. The owner is very friendly, listens to his guests and is very welcoming. I highly recommend you to try it at least once. Thank you Frederic for our delicious stay!!!!!
Wonderful 3 day weekend. The Cube keeps its promises: a change of scenery, calm, cosy, beautiful walks in the surrounding forests and delicious foie gras from Samuel Drouot's a few minutes walk away. Without forgetting Frederic, our host, generous, attentive, discreet, passionate about his project, a true and sincere sense of welcome. Thank you for this beautiful escapade and see you soon!
We have just spent a week in this gite and are delighted! The photos are true to what we found there. The accommodation is new, modern and well appointed. The setting is SU-PER-BE! Thanks to the bay window, you can enjoy the natural surroundings at all times (with the river right in front), not to mention the terrace when the weather is nice. The little gem is to wake up in your bed with a view of the river, it's very beautiful and very soothing. And finally, you will be very well received!
What nice surprises: - exceptional gite - enchanting place - friendly welcome from the owner
Contact us and book your an unusual, top-of-the-range stay in Burgundy
together.